A new route to robotics as a service (RaaS)
Starting out with a new concept and building a highly capable survey-grade autonomous underwater vehicle (AUV) could be a daunting task. How about targeting a launch date within two years?
Quincy, Massachusetts, based underwater robotics innovator Dive Technologies has done just that. Founded in 2018, Dive Technologies has now produced a vehicle that's not only already operating commercially, through a robotics as a service (Raas) model, but it's delivering a level of navigational accuracy not seen before in a commercial AUV, thanks to a key piece of Sonardyne technology.
The key to their success has been to forge strong partnerships with everything from control system developers and battery manufacturers to acoustic and inertial technology providers like ourselves. Working with industry partners has meant they've been able to leverage the highest performance, best in class commercial-off-the-shelf-systems (COTS) – we're talking calibration-free out-of-the-box navigational accuracy of <0.01% of total distance travelled or better than 0.04% of distance from origin. More on that later.
A key part of the development has been to opt for high-performance COTS, such as SPRINT-Nav for navigation, allowing the company to focus on building certain customized systems in-house.
Big ambitions
If you've not heard of Dive Technologies, they're a small company of 17 employees with a big ambition. They've developed a large displacement "DIVE-LD" AUV. Measuring 48 inches in diameter and 19 feet long, the DIVE-LD AUV is a commercial AUV that is designed to support pier-launched, multi-day missions. The vehicle architecture is very flexible and can house a full suite of survey sensors such as synthetic aperture sonar, multibeam sonar, sub bottom profiler and cameras. While the vehicle is designed for full ocean depth, down to 6,000 m, its size makes it a very stable shallow water data collection platform, well-suited for survey in coastal waters where surface effects can impact data quality.
Extensive sea trails of the vehicle started in 2020, to validate that it could deliver robot-as-a-service (RaaS) operations in 2021, and paid RaaS work started on schedule in early-April.
Dan Zatezalo, Technical Sales Manager Defense at Sonardyne Inc, reminds us: "We started working with Dive Technologies in 2019, and it's been a great journey. From initial discussions around their performance requirements – the highest possible – to sea trials from August 2020 through to this March, it's been an amazing journey.
Dive's end goal is to solve the pain points of commercial survey operators with a low-logistics, pier launched, long-endurance AUV for littoral and deep-water survey and inspection operations. We're talking about a platform that's able to perform pre-construction and through life wind farm surveys, so no need for crewed survey vessels. To do that, extremely high navigational accuracy is needed."
Ioseba Tena, Head of Defence at Sonardyne, picks up the story.
"Initially they approached us to look to integrate our acoustic solutions for tracking and communications, but, as we explored their requirements, it was obvious that their value proposition required extremely good positioning," he says. "Large AUVs are fantastic because they can carry more batteries, which translates to longer endurance. But for the value of that additional coverage to be realized, the AUV needs to know where it is with an acceptable accuracy."
"Initially we discussed what our SPRINT-Nav 300 hybrid navigation system could do in support of their mission, but as we explored their requirements, it became very clear that Dive's requirement was really geared towards our SPRINT-Nav X."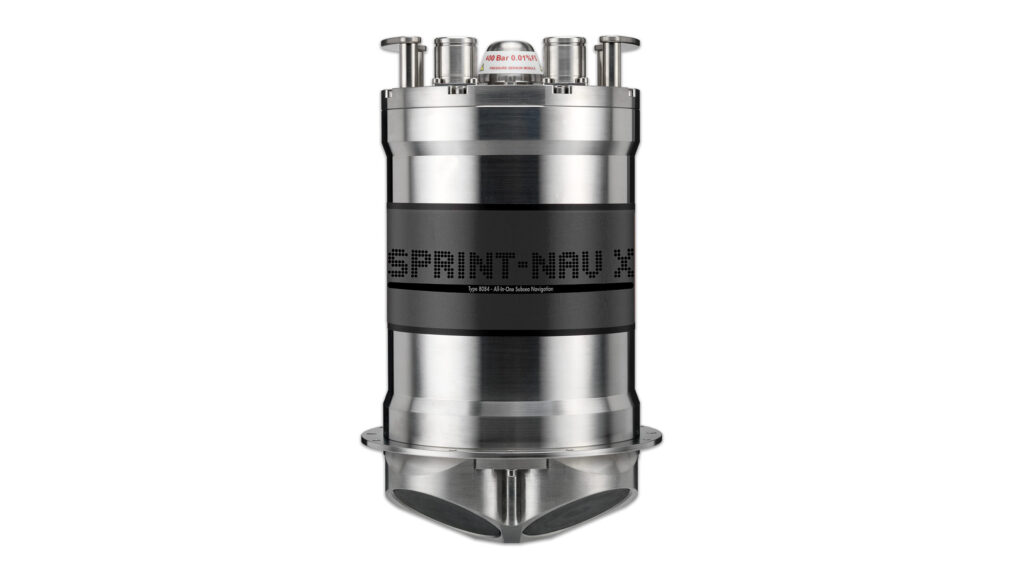 SPRINT-Nav X is the highest-grade SPRINT-Nav in our SPRINT-Nav family. SPRINT-Nav variants are available across a range of performance levels, all in the same AUV-friendly form factor, supporting Dive Technologies' focus on mission adaptability. A SPRINT-Nav 500 was initially integrated into the DIVE-LD.  When the higher performance SPRINT-Nav X was required, it was truly a simple swap out. It does not get easier to upgrade the navigation performance of an AUV.
Proving performance
The proof is in the pudding, as the saying goes. Dive Technologies' latest trials, in Buzzard's Bay off the coast of Massachusetts and Narragansett Bay, off Rhode Island, more than met all of our expectations. The trials saw the complete vehicle system validated, including GPS, vehicle timing, vehicle controller and our SPRINT-Nav X.
The results were superb, with average real-time navigational accuracy of 0.02-0.03% of the distance from the origin straight out of the box. "To our knowledge, this is twice as accurate as our nearest commercial competitor," Tim Raymond, Director of R&D at Dive, says. He explains: "Integration of the SPRINT-Nav X system into our existing DIVE-LD vehicle allowed us to achieve a level of navigational performance beyond what was previously thought to be industry standard. This testing was performed with a SPRINT-Nav X as it was delivered to us, with no in-situ calibration.
"After one day offshore with this unit, our navigational accuracy was demonstrated at <0.03% of vehicle distance from origin, on a 10 km straight-line mission to represent the worst case for navigation accuracy. No special in-water pre-mission alignment was required, allowing us to rapidly deploy the AUV and begin collecting data immediately."
Achieving this level of navigation accuracy makes it possible for long-endurance AUVs to be suitable replacements for the large, crewed surface vessels that are utilized today, to conduct seabed and infrastructure surveys for customers in the energy market.  – Dive Technologies.
Bill Lebo, Dive Technologies' co-founder, says, "We recognize that there is a very high barrier to entry in the wind farm survey market as requirements are very difficult to meet. It's a testament to our team and the commercial AUV we have brought to market that the navigational accuracy we've achieved will allow us to confidently collect data for seabed surveys and cable route surveys throughout the entire lifecycle of offshore wind farm construction. Our DIVE-LD AUVs will dramatically drive down data collection costs, get surveys off the critical path for wind farm development and offer a safe and clean alternative to augment the scarce vessel fleet."
Dan says the relationship with Dive has been really rewarding, "One of the things we realized when we looked at the data is just how stable and operationally reliable the DIVE-LD platform is," he says. "The Dive team has developed an impressive AUV, their expertise and know-how shines through the vehicle design and performance. The DIVE-LD stability, endurance and large flexible payload capacity in combination with our SPRINT-Nav X offers a very capable platform for a host of autonomous operations and applications. When we looked at the data, it was easy to see how far we travelled and how insignificant the error growth was. This means that you can make the most out of the DIVE-LD platform as it will be gathering meaningful data with meaningful positioning accuracy."
https://www.sonardyne.com/complete-sonardyne-suite-for-dive-technologies-large-displacement-auv/
Want to find out more about this article?
Speak to an expert